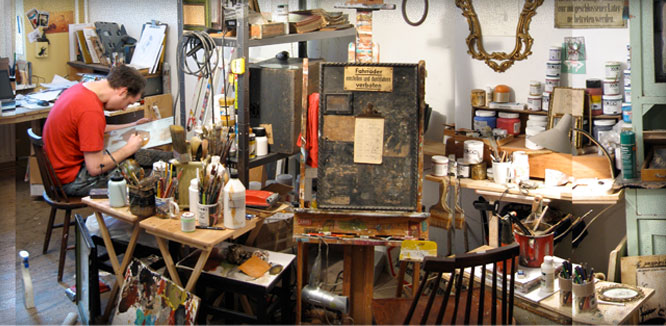 Johan Potma is a Dutch painter and illustrator who lives and works in Berlin, Germany. His work is made with acrylics and collage on old wooden surfaces like box lids, signs and cigar boxes. The used materials tell part of the story through the stains, old nails, dents and cracks; the remainder is explained through all sorts of monsters, freaks and oddballs acting out his ideas.
Owner of the Cheese Mountain Tragedy Gallery (Schönleinstrasse 32, Kreuzberg Berlin) and co owner of the zozoville Gallery (www.zozoville.com)
Clients include Playboy, Nickelodeon, Pepsi, XXS, Jung von Matt, BBDO, Sixfeet, Nivea, Pacifico Beer,etc His illustrations have been featured in Luerzer's Archive 200 Best Illustrators Worldwide (2007, 2008, 2009,2010,2011), The Upset (Die Gestalten Verlag), Freistil and Communication Arts.
Interview Communication Arts: http://www.commarts.com/insights/big-beautiful-chunks-time.html
visit my workstudio/gallery:
"the Cheese Mountain Tragedy": Schönleinstrasse 32, 10967 Kreuzberg, Berlin
Galleries/shops:
Zozoville Gallery: Mainzerstrasse 12, 10247 Friedrichshain, Berlin.
Onkel Zozo Gallery: Oranienstrasse 195, 10999 Kreuzberg, Berlin
Facebook: http://www.facebook.com/pages/Johan-Potma/214118925278656
Buy some art:
Any painting on this website without a SOLD button on the bottom of the image, is still for sale. If you are interested in a piece, please send me an email and we'll take it from there.
Illustration work: For Illustration work in Australia or Asia please contact my australian agent at the Drawingbook studios here: matt@drawingbook.com.au